Get the most out of 2020 fleet conferences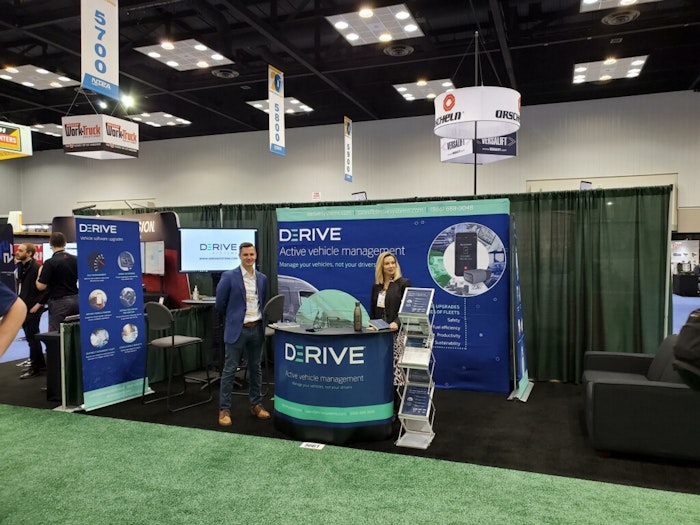 Professional conferences and expos are great ways to improve or learn new skills, network with your peers, and find new vendors to partner with.
We love attending fleet events to see what's new in the industry, what's trending, and what to keep our eyes on in the future, as well as having the chance to share best practices and talk about our fleet management solutions.
Are you planning on attending some fleet conferences and events in 2020? Get the most out of your conference experience with our eight tips!
8 tips to make the most of attending conferences
1. Plan ahead
After registering for the conference, take some time to review the agenda and start planning your time at the event by picking what sessions you want to attend. What classes or workshops sound like they'd be of interest to you? Do you have any specific goals or idea of what you'd like to learn at the conference? Most conferences group sessions by track, like operations, leadership, or technology, so you can follow all sessions on the same theme or mix and match to get a little bit of everything.
It's also a good idea to download the event's app prior to the show so you can get all the latest information or be alerted if there's a change to the schedule. You may also want to follow the event's social media profiles to see what other sessions are covering, share pictures of the event, and know where you should go next.
You can also plan ahead by packing plenty of business cards, packing your chargers, and bringing along a notebook and pen.
2. Attend the educational sessions
Once you're at the event, it's time to actually attend the sessions! These educational sessions can help you find new best practices, new tools, and new ways of doing things in your fleet to drive improvements. Don't be afraid to leave a session if it's not what you thought or the title doesn't accurately reflect what you're learning. It's your time so use it wisely.
It's also a good idea to think of some questions to ask during the Q&A portion, like:
My fleet is currently struggling with (a challenge), have you had any experience with this problem and have any advice to overcome it?
What metrics do you find to be the most valuable for (using a new tool you bought or implementing a new process)?
What are some experiments you've run in your business that paid off?
Keynotes can be hit or miss depending on the speaker. Most times, keynote addresses are meant to be inspirational and start conversations
3. Take notes like you're back in school
After a full day of educational sessions everything starts to run together, so make sure to take notes and label what sessions those notes came from. You're going to be inundated with information during the day and probably won't remember it all when you get back to the office. Bring a laptop or old-fashioned notebook and pen to jot down key takeaways, stats, or to-dos during each session.
4. Eliminate distractions
Put away your phone and ignore the temptation to work or check email during a class. The whole reason you're here is to learn, and work will always be waiting for you after the conference. Use your out of office reply to tell colleagues and others that you're unavailable and will respond when you're back in the office so you can focus your attention on the conference and networking with new people.
5. Network at the show
Most conferences allot time for networking or social events to give your brain a break from the classroom and to let you meet others in your industry. Don't be afraid to introduce yourself and have a quick chat with your peers. If you're nervous about striking up a conversation with other attendees, try these conversation starters:
What did you think of the keynote address?
What's the most interesting session you've attended? Or, what sessions are you most looking forward to?
How'd you hear about this conference?
What do you think of the conference so far?
How long have you been in the industry?
You should also make an effort to connect with the speakers, either in-person or by following them on social media. It's okay to ask them questions during lunch or a refreshment break about their session or just saying hello and telling them that you enjoyed their presentation. These connections can be very valuable for your career in the long run.
6. Meet with vendors
Carve out some time to walk the tradeshow floor and meet with exhibitors to learn about new tools, tech, or services your fleet could benefit from. Fleet technology is changing rapidly, and you never know if you're missing out on something that can improve your operations or cut down on costs. Say hello, learn about their business, tell them about yours, and see if it's a good fit. Most vendors can demonstrate their software or services right at the booth, and worst-case scenario if it's not a fit you can walk away with some fun goodies.
7. Make time for yourself
Conferences can be exhausting as they're long days to maximize the time at the event. Be sure to take care of yourself and take breaks when necessary. It's okay if you miss a happy hour one night to get to the gym, rest, or have a phone call with your loved ones back home. Your wellbeing is important to present your best self at the event and get the most out of the conference.
8. Share the knowledge
Once you get back to work, pay it forward by sharing everything you learned with your co-workers. If you get access to the presentations or recordings, share those links, or create a document with key takeaways and ideas of how to implement some of the things you learned and share that with your team.
Have any tips for getting the most out of a fleet conference? Share your thoughts with us on LinkedIn!
Interested in meeting with Derive at some 2020 fleet conferences? We'll be attending: